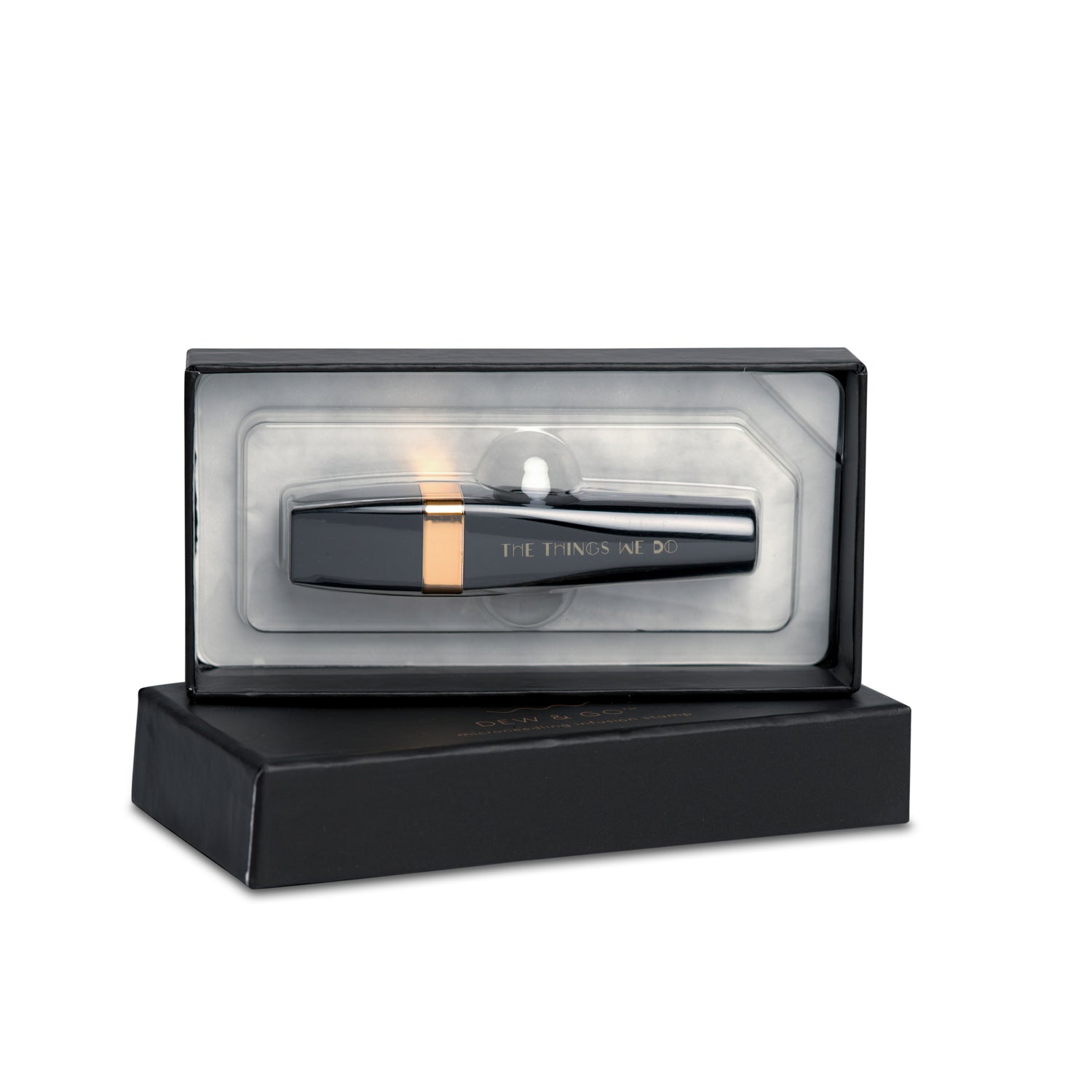 Get the most results in the least amount of downtime.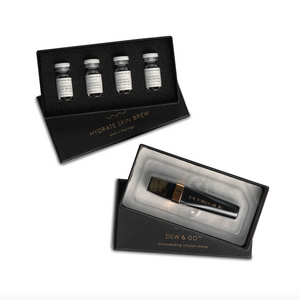 The benefits vary by person but will include tighter, plumper and brighter skin within days of using the Dew & Go. In each set, you will receive a Dew & Go microneedling infusion stamp plus four Skin Brew ampoules. The Brighten & Hydrate Skin Brew Ampoules are also available for purchase separately. Every Dew & Go Stamper contains 49 gold plated needles with a 0.6mm gauge.
Each Dew & Go™ Ritual Set includes a set of four Skin Brew Ampoules of your choice.
---
Each set includes a set of four Skin Brew Ampoules of your choice.
Hydrate Skin Brew (Original)
Glow-inducing snail mucin and the super antioxidants in Moringa are the star ingredients in this extra boosted hydration elixir.
Brighten Skin Brew (Vegan)
Our new vegan-friendly skin brew features three powerhouse skin brighteners––Licorice, Niacinamide and Tranexamic Acid.
The Breakdown
Upon stamping the skin, a signal is sent that there has been a micro-injury, which causes the skin to go into repair-mode by building new collagen. Dew & Go minimizes fine lines and refines pore size. It also helps minimize scars, brighten hyperpigmentation, and smooth any skin texture. It is a great treatment for all skin types and shades of melanin.
This treatment is recommended every 2-4 weeks.
First, start by twisting off the top and opening the chamber. Pour your Skin Brew and make sure all the good stuff is in there.
Leave it upside down for 1-2 minutes. During this time, you can wash your face and make sure your hands are nice and clean.
Once the Skin Brew has had enough time to make its way into the needles, you can take off the lid and start stamping!
Start at the center of the face and work your way outward.
Stamp with a 50% overlap. If you would like more collagen-building on a specific area such as a stubborn divot or acne scar, you can go over it 2-3 times to target that concern. If you have any active blemishes, you can get as close as possible, but avoid stamping directly on any active breakouts on the skin.
Leave the Skin Brew on overnight so your skin can drink up all that yummy serum. (Hack: take any leftover serum from the ampoule and pat it onto your face and neck!)
HYDRATE Skin Brew Ingredients: Water, Butylene Glycol, Glycerin, Dipropylene Glycol, 1, 2-Hexanediol, Sodium Hyaluronate, Snail Secretion Filtrate, Moringa Oleifera Leaf Extract, Carbomer, Allantoin, Caprylyl Glycol, Ethylhexylglycerin, Tromethamine, Disodium EDTA, Rh-Oligopeptide-1
Once you've finished stamping your way to brighter and plumper skin, twist off the head of the stamper and place the needles in 70% Isopropyl Alcohol for 5-10 minutes.
Open up the Skin Brew chamber and clean it out with water and a gentle soap or cleanser. Avoid cleaning with any harsh chemicals that your skin may react to.
Let both pieces air dry and store in a cool, clean place until you're ready to use it again!
After you've infused your skin with all that delicious goodness, try to keep the skin nice and clean for 24 hours. Avoid touching your face and refrain from putting on makeup, as you want skin to focus on healing. It's important to keep in mind that any product placed on the skin after using Dew & Go will absorb more easily. Don't use any harsh actives for a couple of days such as Salicylic or Glycolic acid. The most results with the least amount of downtime, say what?
Be ready to see your results on day three. Your most gorgeous skin is waiting for you!